WORLD PREMIER: BMW 8 SERIES GRAN COUPE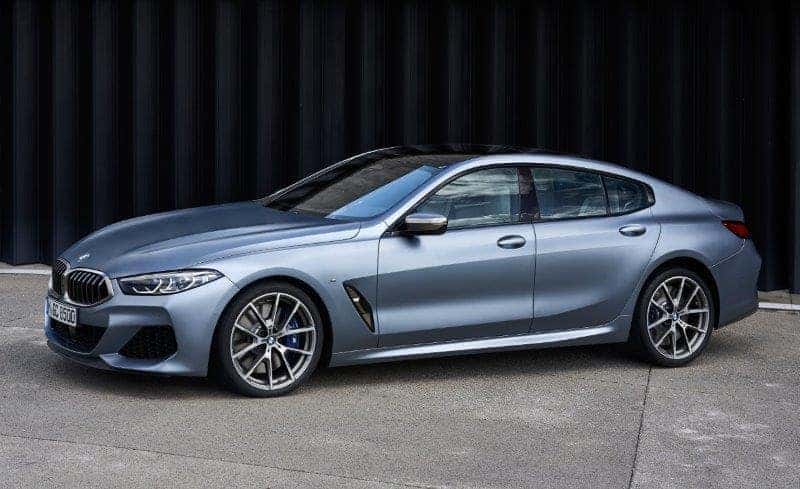 "On launch, the 2020 8-Series Gran Coupe will be available in two variants: There's the 840i, which has a 3.0-liter turbocharged inline-six making 335 horsepower and 368 lb-ft of torque. It's able to get to 60 mph in 4.9 seconds, but option BMW's xDrive all-wheel drive system, and that number drops to 4.6 seconds. The second is the M850i xDrive. Available only with all-wheel drive, it comes with the same 4.4-liter twin-turbo V-8 as the coupe, making 523 horsepower and 553 lb-ft of torque. It's able to propel the car from 0-60 in just 3.7 seconds. It also gets adaptive M suspension, a sport exhaust system, bigger brakes, an M Sport differential, unique aerodynamics, and a host of trim upgrades. A carbon fiber roof is available as an option.
Both versions of 8-Series Gran Coupe come standard with an eight-speed automatic with launch control and the brand's clever GPS-aided predictive shifting software. Top speed is limited to 130 mph with all-season tires, but can be raised to 155 mph if optioned with summer tires.
As with the coupe, the 8-Series Gran Coupe gets double-wishbone suspension up front and a five-link setup at the rear, with standard Dynamic Damper Control. All-wheel drive Gran Coupes get all-wheel steering as standard.
The interior of the 8-Series Gran Coupe is largely the same as the two-door, save for the rear seating area, which has 7.1 more inches of legroom and a 40:20:40 split-folding bench, allowing for all sorts of cargo and passenger combinations.
Production for the 8-Series Gran Coupe will begin in July 2019, with deliveries starting in September.