BMW 6 Series Features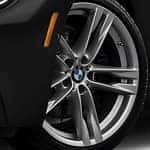 The BMW 6 Series has been refreshed for 2018. The latest model has a lot of new features, as well as the same German engineering that created finely tuned engines made for speed and performance. The 6 Series goes all the way up to 600 horsepower in the premium series. However, the base engine is just as good, starting at over 300 horsepower. In addition, there are several different drivetrains that you can pick from, including xDrive. With xDrive, you can switch between all-wheel drive, rear wheel drive, and front wheel drive.
There are also more tech features in the new 6 series, including an infotainment system and all new WiFi hotspot feature that lets you stay connected wherever you go. Drivers love the all new safety features that include blind spot monitoring, departure lane assist, traffic alerts, and more.
You can test drive the all-new 6 Series at BMW of Bridgeport.