BMW 4 Series vs. Competitors in Bridgeport, CT
Are you searching for a luxury car that strikes the right balance between design and engineering? The new BMW 4 Series offers an unparalleled driving experience that sets it apart from competitors.
Whether you're interested in the Coupe, Grand Coupe, or convertible, the BMW 4 series is a joy to drive and a truly unforgettable ride.
We offer a comprehensive selection of BMW 4 series at BMW of Bridgeport. Locally owned and operated, we are a 7-time Center of Excellence Award winner with a proud focus on delivering exceptional customer service.
We invite you to browse our online inventory and book an appointment to test drive your favorite model.
View 4 Series Inventory
BMW 4 Series vs Genesis G70
Regarding performance and handling, the BMW 4 series is a clear winner in the luxury sedan market. Compared to the Genesis G70, the 4 series offers a powerful engine capable of delivering 255 horsepower and 295 lb-ft of torque, and excellent fuel economy. In fact, the BMW 4 series enjoys an EPA city/combined/highway estimate of 25/28/34 MPG vs. G70's 20/23/28 MPG.
That's not all! As you step in, perforated SensaTec upholstery, and fine wood oak grain trim, welcome you to a luxurious cabin. And the twin-tube gas-pressure shock absorbers combined with front and rear suspensions ensure a smooth, comfortable ride.
With its sleek exterior, well-designed interior, and high-performance capabilities, the BMW 4 series line-up is a clear winner.
BMW 4 Series vs Mercedes-Benz C Class
Cruise in style and comfort with BMW 4 series. While the interior of the Mercedes-Benz C Class may seem somewhat cramped, the cabin of the BMW 4 Series offers ample head and legroom for both front and rear passengers.
What about the exterior design? BMW's front grill has been the talk of the town since it came out, and it has quickly become an iconic feature among luxury sedans. The BMW 4 Series offers contemporary and modern designs with the latest and greatest technology, unlike the Mercedes-Benz C Class, which has a more traditional look that lacks some of the new-age designs and elements that set the BMW 4 Series apart from other vehicles of its class.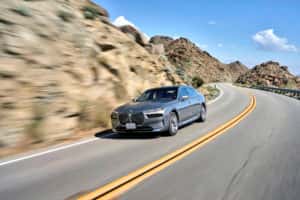 BMW 4 Series vs Audi A5
The BMW 4 Series and the Audi A5 are two high-quality luxury sports cars with similar features and performance capabilities. However, some notable differences may affect a buyer's decision. The BMW 4 Series is known for its sporty handling, powerful engine options, and more aggressive, modern exterior design. The Audi A5, on the other hand, offers somewhat of a comfortable ride with a more understated and elegant exterior design.
Inside, both cars feature advanced technology and high-quality materials, but the BMW 4 Series has a more futuristic interior design, while the Audi A5 focuses more on simplicity and functionality.
The BMW 4 Series is better than the Audi A5 for those who prioritize performance and a sporty driving experience. With more powerful engine options and agile handling, the BMW 4 Series delivers a thrilling ride that will satisfy drivers who love to push their cars to the limit. This luxury vehicle offers a winning combination of power, agility, and luxury, making it a top choice for those seeking a high-performance luxury sports car.
Schedule an Appointment Today
The latest BMW 4 series offers an exceptional line-up of luxury sedans. From sleek exterior lines to impeccable interior design and impressive performance, the BMW 4 series is a head-turner.
We offer a large selection of the latest BMW vehicles at BMW of Bridgeport. Whether you want to find your favorite model or have questions about financing options, our experts are here to guide you through acquiring your next BMW.
Browse our inventory and book an appointment to visit us in Bridgeport, CT, today.