BMW of Bridgeport Collision Center Services
ONCE A BMW, ALWAYS A BMW.
---
Our Bridgeport area auto body repair service has the high-tech collision repair equipment needed to restore your vehicle after an accident. From repairing major vehicle damage, touching up after a fender bender, to windshield replacement, we do it all. We even provide you with a body shop appointment form right here on our website. Bring your vehicle to an auto body pro the first time, or you might later wish that you did!
Collision repairs from BMW of Bridgeport will help keep your vehicle's value what it should be. Don't trust your expensive vehicle to a body shop that might not!

Contact Service

BMW is the Ultimate Driving Machine.® And you deserve to enjoy that experience every moment you spend behind the wheel – even after a major collision. As a courtesy to all BMW drivers on the road today, we offer complimentary access to our nationwide network of BMW Certified Collision Repair Centers. 120-hour technician training. Repair procedures tested by BMW engineers. Original BMW Parts. Certified results. For restoring your BMW to original vehicle specifications of performance, beauty and safety, BMW Certified Collision Repair Centers have no equal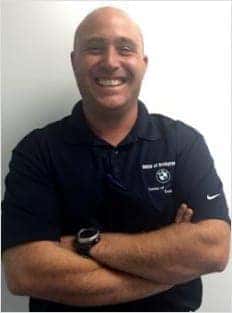 BMW of Bridgeport Collision Manager

Contact Chris Frillici
Collision Center Manager, CT Licensed Appraiser
cfrillici@bmwofbridgeport.com
Cell: (203) 395-9272